---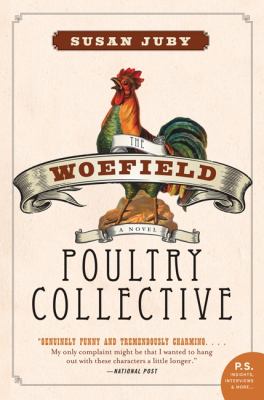 Book
The Woefield Poultry Collective
Copies
1 Total copies,
1
Copies are in
,
0
Copies are out
.
Woefield Farm is a sprawling thirty acres of scrub land on Vancouver Island, complete with dilapidated buildings and one half-sheared, lonely sheep named Bertie. It's run - in the loosest possible sense of the word - by Prudence Burns, an energetic, well-intentioned twenty-something New Yorker full of back-to- the-land ideals, but without an iota of related skills or experience. Prudence, who inherited the farm from her uncle, soon discovers that the bank is about to foreclose on Woefield Farm, which means that Prudence has to turn things around, fast. But fear not! She'll be assisted by Earl, a spry seventy-something, banjo-playing foreman with a distrust of newfangled ideas and a substantial family secret; Seth, the alcoholic, celebrity-blogging boy-next-door, who hasn't left the house since a scandal with his high-school drama teacher; and Sara Spratt, a highly organized eleven-year-old looking for a home for her prizewinning chickens, including one particularly randy fellow soon to be christened Alec Baldwin.
Title
The Woefield Poultry Collective
Published
Toronto : HarperCollins Canada, c2011.
Publication Desc
306 p. ;