---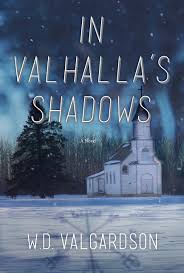 Book
In Valhalla's shadows
Copies
1 Total copies,
1
Copies are in
,
0
Copies are out
.
"Ever since the accident, ex-cop Tom Parsons's life has been crumbling around him: his marriage and career have fallen apart; his grown children barely speak to him; and he can't escape the dark thoughts plaguing his mind. Leaving the urban misery of Winnipeg, he tries to remake himself in the small lakeside town of Valhalla, with its picturesque winter landscape and promise as a "fisherman's paradise." As the locals make it clear that newcomers, especially ex-RCMP, are less than entirely welcome, he throws himself into repairing his run-down cabin. But Tom has barely settled in the town when he finds the body of a fifteen-year-old Indigenous girl on the beach, not far from his home. The police write off Angel's death as just another case of teenagers partying too hard. But the death haunts Tom, and he can't leave the case closed-something just doesn't add up. He begins visiting the locals, a mix of Icelandic eccentrics, drug dealers and other odd sorts you'd expect to find in an isolated town, seeking out Angel's story. With the entitled tourists with their yachts and the mysterious Odin group living up the lake, Valhalla is much more than it originally seemed. And as Tom peels off the layers, he hopes to expose the dark rot underneath. W.D. Valgardson's expert manipulation of metaphor and imagery brings a mythic scale to the murder mystery at the heart of In Valhalla's Shadows. In doing so he shapes a portrait of small-town living, with frank depictions of post-traumatic stress, RCMP conduct, systemic racism and the real-life tragedies that are too often left unsolved."-- Provided by publisher.
Title
In Valhalla's shadows
Published
Madeira Park, British Columbia : Douglas & McIntyre, 2018.
ISBN
9781771621960 (hardcover)