---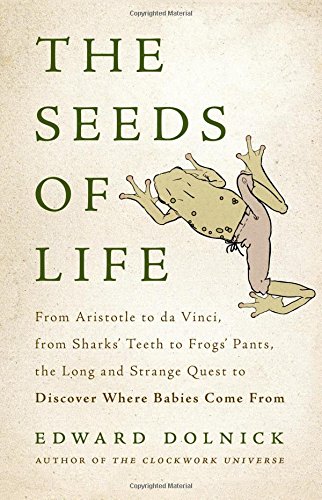 Book
The seeds of life : from Aristotle to Da Vinci, from shark's teeth to frogs' pants, the long and strange quest to discover where babies come from
Copies
1 Total copies,
1
Copies are in
,
0
Copies are out
.
"Why cracking the code of human conception took centuries of wild theories, misogynist blunders, and ludicrous mistakes. Throughout most of human history, babies were surprises. People knew the basics: men and women had sex, and sometimes babies followed. But beyond that the origins of life were a colossal mystery. The Seeds of Life is the remarkable and rollicking story of how a series of blundering geniuses and brilliant amateurs struggled for two centuries to discover where, exactly, babies come from. Taking a page from investigative thrillers, acclaimed science writer Edward Dolnick looks to these early scientists as if they were detectives hot on the trail of a bedeviling and urgent mystery. These strange searchers included an Italian surgeon using shark teeth to prove that female reproductive organs were not 'failed' male genitalia, and a Catholic priest who designed ingenious miniature pants to prove that frogs required semen to fertilize their eggs. A witty and rousing history of science, The Seeds of Life presents our greatest scientists struggling-against their perceptions, their religious beliefs, and their deep-seated prejudices-to uncover how and where we come from"--From publisher.
Title
The seeds of life : from Aristotle to Da Vinci, from shark's teeth to frogs' pants, the long and strange quest to discover where babies come from
Published
New York : Basic Books, c2017.
Publication Desc
ix, 309 p. : ill. ;