---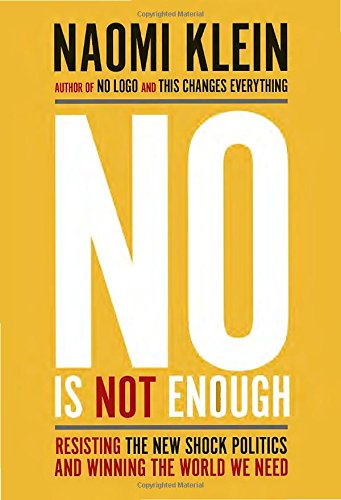 Book
No is not enough : resisting the new shock politics and winning the world we need
Copies
1 Total copies,
1
Copies are in
,
0
Copies are out
.
"Remember when it all seemed to be getting better? Before Trump happened? What went wrong, and what can we do about it? Naomi Klein- shows us how we got to this surreal and dangerous place, how to stop it getting worse and how, if we keep our heads, we can seize the opportunity to make it better. She reveals how Trump is not a freakish aberration, but an extension of the most powerful trends of the last century: celebrity and CEO-worship, Vegas and Guantanamo, soft porn and hard power, fake news and vulture bankers, all rolled into one. His election was not a peaceful transit but a corporate takeover, by people who've knowingly harmed people, societies and our planet. Now their deliberate shock tactics are generating wave after wave of crises, designed to disorientate us and stop us fighting back. This book is the toolkit for shock resistance, giving all of us what we need to win the argument and right their wrongs. Naomi Klein is a journalist, syndicated columnist, and author of No Logo, The Shock Doctrine, and most recently This Changes Everything: Capitalism vs. the Climate."--Provided by publisher.
Title
No is not enough : resisting the new shock politics and winning the world we need
Published
Toronto, Ont. : Knopf Canada, 2017.
Publication Desc
273 pages ;